Archive for the Employee Spotlight Category
Territory III Sales Manager
Weston covers Lift Truck Supply's most western territory that includes – Temple, Belton, Killeen, Waco, Georgetown, and Round Rock.
Relatively new to the Central Texas region, Weston has been diligently making contacts and meeting the business community for the last year and a half.
1.  Why do you think Toyota forklifts are routinely voted the best forklift brand?
Toyota has built its name around quality, durability, and reliability. Customers know that when they purchase/lease a Toyota forklift they are getting the best piece of equipment in the industry. I also believe that Toyota's dedication to  having the lowest cost of ownership, as well as their dedication to pushing the forklift industry to being safer with standard features such as SAS (System of Active Stability) let's customers know that Toyota doesn't just care about selling equipment, but also helping to create a safer and more efficient workplace.
2.  How does it feel when a material handling solution you've recommended for a client completely exceeds their expectations?
Anytime I am able to help a client improve their efficiency is exciting for me. This past spring I was able to work with a client that has always purchased used forklifts and therefore had a lot of downtime and high service bills. We talked with them about going to a lease program to put new equipment in their facility. Last year they ordered and put 5 new Toyota lifts into their facility and are looking to add 5 more this year. Their service bills are almost non-existent now (outside of regularly scheduled PM's) and they love the way the Toyota's operate in their facility. 
3.  When you're not on the job, how do you like to spend your time?
When I'm not working I spend my time with my wife Grace and our dog Buddy. We spend a lot of our free time enjoying Baylor sporting events with our family and friends… Sic Em Bears! If I'm not supporting Baylor athletics or helping my wife around the house then I like to work on my golf game when I get a chance. So when the weather is nice you can find me on the driving range or playing a round at a local course.
If you're from Temple, Belton, Killeen, Waco, Georgetown, or Round Rock and need recommendations or quotes on forklifts please call Weston at 214.202.3313.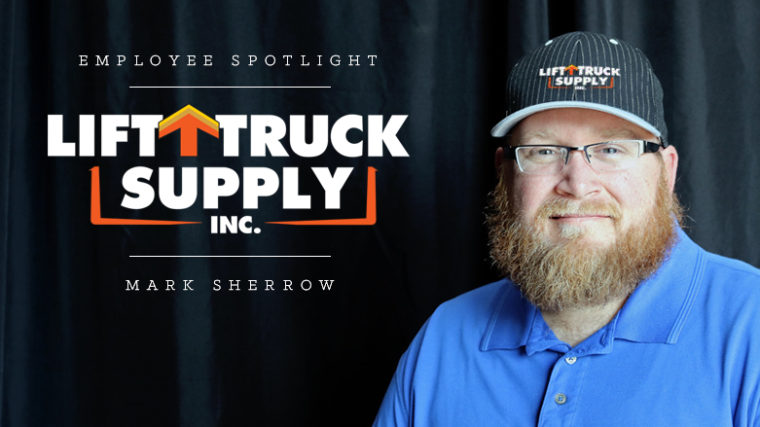 Territory II Sales Manager
Mark covers Lift Truck Supply's most eastern territory that includes – Longview, Kilgore, Marshall, Nacogdoches, Texarkana, and Lufkin.
With over 15 years in forklift sales in the North East Texas region, Mark is uniquely qualified to evaluate equipment options and recommend material handling solutions that fit your specific operational needs.
1.  How did you get into forklift sales?
While working in sales at Schwan's I was approached by a customer about taking a look at an equipment sales company he had purchased. With a background in sales, customer service, and basic automotive knowledge I felt confident I could transition into equipment sales. I studied hard and learned the facts about the equipment offerings we carried and grew into the position. 
2.  What aspect of material handling consulting do you find the most rewarding? 
Listening to a customer's needs and being able to help them gain efficiencies or be better equipped to handle the items that give them headaches is a good feeling. We had a customer this past year with an original battery change out station servicing 3 batteries per forklift to keep up with their daily operations. The aging batteries had become a high maintenance item in terms of labor and productivity as well as a potential safety hazard.  We were able to survey the time spent watering, changing batteries, and maintenance to the charging station and provide a report that justified the cost of a more efficient battery system and make the working environment safer.
3.  When you're not on the job, how do you like to spend your time?
My kids take up most of my time – running them to soccer games or practice 4 to 5 days a week. When we don't have soccer or some type of kids sports, the family enjoys going to Texas Rangers games, car and truck shows, or sometimes just cooking and hanging out with friends and family!
If you're from Longview, Kilgore, Marshall, Nacogdoches, Texarkana, or Lufkin and need recommendations or quotes on forklifts please call Mark at 903.387.8665.
Territory I Sales Manager
Scott covers Lift Truck Supply's central territory that includes – Tyler, Jacksonville, Sulphur Springs, Corsicana, Greenville, and Paris.
Fifteen plus years of forklift sales and service experience has made Scott an excellent resource for questions regarding material handling.  As a former mechanic, Scott's unique insights often lead to increased productivity and efficiency for his clients.
We asked Scott to answer these three questions so you could better get to know him and his thoughts on material handling.
1.  Why are Toyota forklifts consistently rated the lowest cost of ownership among forklift brands?

Toyota is the top in quality and durability, which is what you receive with your Toyota forklift, these are forklifts that you can count on for many years in your facility. The ease of operation and maintenance on the machines leads to less downtime and more productivity. Even when I was a mechanic, I preferred to work on the Toyota's compared to other brands because of the ease of service and space provided in the compartment for the mechanic to reach everything without having to disassemble the forklift. This also factors into the cost of ownership because you're paying less for tear down time.
2.  What's the most challenging aspect of your job?
The most challenging part is trying to reach everyone in my territory to have face-to-face time with each customer. I try to treat customers the way I would like to be treated if I was the customer. I would like to know who I am buying my equipment from and what type of person they are. This plays into the purchasing process as well, you can tell so much from a person's personality the first time you meet them that gives you an indication whether this is going to be a good purchase.
3.  When you're not on the job, how do you like to spend your time?
Most of my time is spent with my family – we do everything together. My oldest daughter is in college so we have had to get use to that, but the youngest, which is in high school keeps us very busy with her sport activities. If I am not with them, then most likely I am at the lake trying to catch my limit of fish – it happens very rarely.
If you're from Tyler, Jacksonville, Sulphur Springs, Corsicana, Greenville, or Paris and need recommendations or quotes on forklifts please call Scott at 903.312.2743.