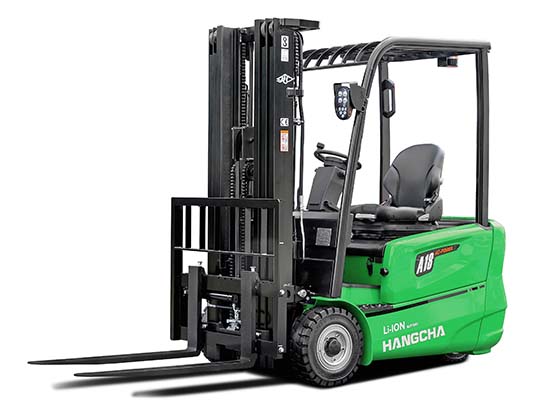 Hangcha 3-Wheel Electric Lithium-ion Forklift
The Hangcha A Series 3-Wheel Lithium-ion Electric Forklift is coated in a durable green finish that designates the forklift is powered by lithium-ion technology. 
4,000 lb. Capacity
Dual Front AC Driving Motors
CATL Lithium-ion Battery Pack
118.1″ Duplex Wide View Mast
Low Noise Gear Pump
Electronically Controlled Traveling, Lifting & Steering
Multi-Function Instrument Display
LED Headlights
2 Hydraulic Valves Inside Chassis
The Hangcha 3-Wheel Lithium-ion Electric Forklift's lithium-ion technology features opportunity charging. This means that the forklift can work through several shifts, charging during breaks, without needing to stop for hours to recharge. Combined with regenerative braking during deceleration, the powertrain is designed with efficiency in mind. The forklift also comes standard with a high-power pump motor and low noise gear pump. This adds to the efficiency by allowing the hydraulics to work faster. 
STABILITY
The battery compartment is designed to sit low to the ground. By doing this, the forklift's stability increased and provides more even weight distribution. Standard on this model, the soft landing system provides increased stability by sensing the load and decreasing the lowering speed of the forks.
CONTROL SYSTEM
The MOSFET integrated control system provides accurate control of traveling, fork movement, and adjusting the performance of the motors.
The forklift will also not roll back on a ramp thanks to the controller. The controller, connectors, battery plug, and emergency switch are all
parts from industry known suppliers to ensure reliability, performance, and ease of service.
CATL LITHIUM IRON PHOSPHATE BATTERIES
1. Integrated Battery Management System (BMS) continually monitors energy management and ensures reliable operation.
2. HANGCHA provides these Lithium Iron Phosphate (LiFePO4 ) battery packs with up to a 10 year or 20,000 hour warranty.
3. See warranty certificate for specific warranty information on the Lithium Iron Phosphate battery packs.